do.cake (Collaboration and Knowledge Exchange)

Monthly Event - Third Tuesday of every month

United Kingdom,
Who's Going
Loading your connections...
Event Details

THE NEXT CAKE MORNING WILL TAKE PLACE ON TUESDAY 21ST MAY. This has been moved from previously scheduled 28th May which falls in the Bank Holiday week.

To view our Cake Presentation please click here. To view our project presentation click here
Given the wide and diverse range of academics, businesses, students and Heritage organisations working collaboratively on the DHD project, we will be hosting FREE monthly "cake" (Collaboration and Knowledge Exchange) mornings to showcase current developments, discuss funding opportunities and tackle current challenges. Given the name of the event - it goes without saying that there will be cake!

If you have any special requirements or are looking to get something specific out of a CAKE morning, please do not hesitate to get in touch at contacts@dhd.bham.ac.uk or by phone on 0121 414 9153.
The do.collaboration Chowen Prototyping Hall is ever-increasing in use for many successful events including the most recent NESTA/ Arts Council/AHRC Digital RND Fund briefing session and CATH workshop. May's do.CAKE morning will be re-capping on recent and upcoming events including exciting do.CAKE mornings, CATH workshops and Do.collaboration's workshop later in the year.
The do.collaboration team are offering a free two-day course for West Midlands developers interested in learning how to develop apps for multi-user multi-touch tables. It will provide practical instruction and advice on how to design code and deliver touch table experiences.
The course will be delivered by the do.collaboration technical development team, who have a wide range of specialist expertise in the field of digital museums, the computer games industry and human computer interaction. As part of the Digital Heritage Demonstrator Project, they have recently delivered touch-table experiences at the Hive in Worcestershire, the new "Birmingham, it's People, it's Histories" gallery and the Staffordshire Hoard gallery for the Birmingham Museums Trust and are soon to launch a touch table at the opening of the new Library of Birmingham.
While the course will partially focus on heritage and cultural applications, the skills learned will be completely transferable to a wide range of commercial sectors.
Throughout the 2 days there will be practical coding exercises as well as various hands on activities, demonstrations and opportunities to ask advice from the team.
Topics covered will include:
·         Introduction to touch table hardware
·         Usability issues relating to multi-touch, gestures and 360
·         Experience design
·         Software development tools and libraries:
-       WPF/surface SDK
-       HTML 5 authoring
·         Testing, deployment and evaluation
This workshop is open to both developers from SMEs and individual freelancers. However they must be based in the West Midlands. Due to the practical coding elements of the workshops some experience of either C# or JavaScript is required. The course is PC based.
The date for this course has not yet been confirmed, but will run in September/October 2013 at the Chowen Prototyping Hall. Places will be strictly limited so to register your interest in this course please register at www.multitouchtraining.eventbrite.com
Our FREE monthly CAKE mornings are changing. June's do.CAKE morning will take place on the 25th and will then move to the 3rd Tuesday of the month. Updates will be available on do.CAKE's Eventbrite pages. 
We are located in the ERI building, off Pritchatts Road in Edgbaston, Birmingham. Our nearest pay and display car park is the North Car Park on the opposite side of the road. If you put our post code into a satellite navigation system, it will direct you to the University of Birmingham Edgbaston campus. You can access printable directions and a map by going to our University web page at www.birmingham.ac.uk/facilities/hclh/contact/index.aspx.
---
Cake events and take place on the first Tuesday of every month. If you would like to present or show a demonstration please contact Nadia Wood, Project Manager at contacts@dhd.bham.ac.uk or 0121 414 9153.
For details of the July cake morning please click here 
For details of the August cake morning please click here
For details of the September cake morning please click here
For details of the November cake morning please click here
For details of the January cake morning please click here
For details of the February cake morning please click here
For details of the March cake morning please click here
For details of the April cake morning please  click here

The Digital Heritage Demonstrator Project is supported by: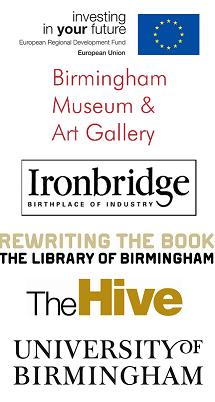 Where
Chowen Prototyping Hall, Ground Floor, ERI Building
University of Birmingham, Pritchatts Road, Edgbaston


United Kingdom

, B15 2TT